Elearning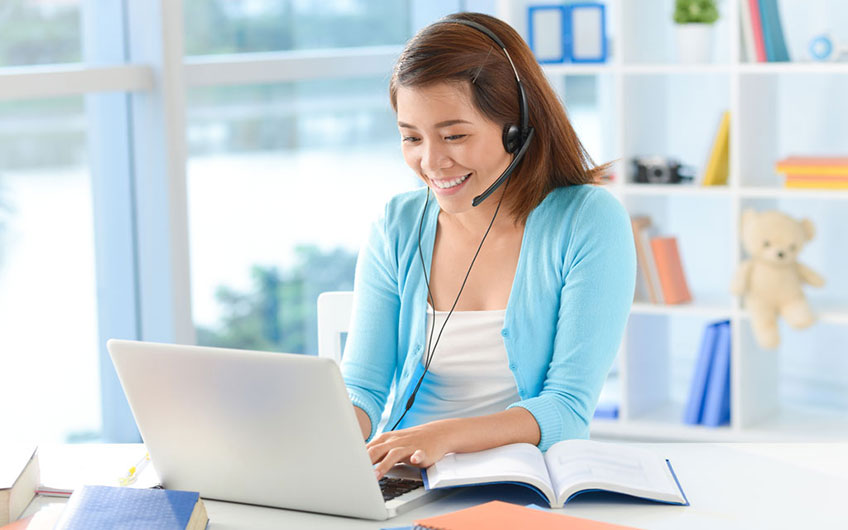 Learn English, French, Spanish and German with our e-learning platform.
Contact LSI Brussels for more information 
 Do you often travel and then need a practical solution to work on your language skills?
 Your budget is Vous avez un petit budget et souhaitez d'abord rafraîchir vos    connaissances ?
 You take lessons and you want reinforcing exercices?
 LSI Brussels proposes e-learning courses for all levels from A1 to C1. This modality enables you to work and make progress wherever you are and at the time of your choice.
Your level and objectives are pre-defined by our pedagogical team and by an on-line test.
You have access to a training program which proposes varied and practical exercices as well as animated modules. You can follow your progression and scores obtained.
Don't learn alone in front of your screen! By taking some individual lessons with one of our teachers you benefit from a real and motivating coaching. Your teacher will select the exercices which suit your learning needs best all along your training. You will be able to exchange documents and ask questions via your account.
Our pedagogical team does a progres follow up of your training module.
You have acces to a wide range of on-line lessons based on the best pedagogical methods thanks to the cooperation of specialised editors.


Your course in practice
Range of levels : A1 to C1.
Length of one e-learning cycle: 3 months, 6 months ou 1 year. 
Languages: English, French, German, Spanish.
Recommended option: individual lessons with a coach plus an e-learning module.


We recommend a minimum of 20 hours of individual lessons with one of our teachers  for more efficience. Contact us for a quotation.
For small budgets we propose 6 lessons of 1h30 with a coach, combined with an e-learning module.
Administrative fees: 27 € VAT inc./person
In case of home tutoring, a supplement traveling fee is required: 3.40 € + 0.40€/km (for less than 8 km from LSI) + VAT. 18,40 € per trip + 0,40 €/km for more than 8 km from our center.
1 or 2 people can participate to the lessons for the same price..
Fast organisation adapted to your needs.
Individual lessons are minimum 1h30 (90 min)


at our training center in 1000 Brussels
at your office
at home
Skype, Meet, Zoom
E-learning access 24h/24 on PC/tablet/smartphone according to your choice.
Access to my e-learning